Start point at Vratnik notch, near village Vratnik. Following the tarmac forestry path after 8 km we reach forestry hut where we make a short break. The path leads through forest until you reach a nice lookout of all the surrounding islands Krk, Prvić, Goli, Sv. Grgur, Rab, Pag, Olib, Silba and all the way to Cres, Lošinj and Premuda. From this point nice gravel road leads down to Oltari where you connect to tarmac. We planned a stop in Oltari hut but nothing seems to work here. The temperature was much higher here but as we start ascent towards Zavižan it gets better. First part of the ascent is tarmac until the entrance to National Park where we had to buy tickets (day ticket for one person is around 4€) followed by gravel until the top.
Zavižan
I don't have the words to describe this place so I will use the National Geographic article about it:
"Zavižan is a true treasury of superlatives: it is one of the windiest and freezing places in Croatia, which is decorated by most beautiful sunsets. At the same time it is home to family Vukušić, whose members through generations work on the highest meteorological station in the country. "
According to our first plan we would stop here only to refresh but as we found out from here on, no other alpine hut could provide us with food. So decision was made to stay overnight. As we had some time before dinner we used it to climb the opposite top from where you have a beautiful overview of the whole area. Dinner was great and after few drinks to bed.
End of day 1, total distance 45 km.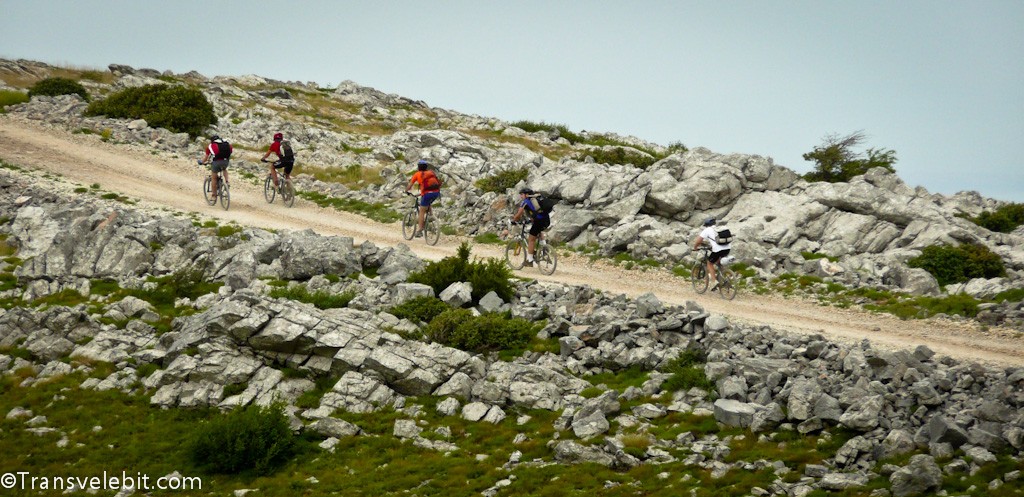 Day 2
We arranged breakfast in the hut which was also great. After the breakfast we headed towards alpine hut Careva kuća which is 15 km from here. Almost 10 km we were on gravel which was fun to drive with nice surroundings. We reached the connection to tarmac and after 4 km we reached hut Careva kuća and after 8 km more hut Mrkvište. Both are nothing special so we headed on to Štirovača. This place is beautiful, a valley surrounded by thick forest which is called Štirovača rain forest. There is also a fresh water well where we cooled down for a while. After 12 km we reached alpine hut Kugina kuća. From this point we headed towards Dabarski kukovi but somehow managed to take a wrong turn. Be sure to follow the right one as this place is very nice. Here you can also find a lot of free climbers during summer. There is alpine hut in the valley beneath the road and it can be reached by bike but the ride is not easy. There you will find a very nice man with whom you can arrange a meal. Going from this point to Karlobag is simple. Just follow the gravel down and you will reach tarmac. Here we decided to make a downhill path (made by the implementation of water pipes) which is a straight line going down to Karlobag. First part is easy but then heavy rocks and steep slope made it impossible to drive. By the end of this mini adventure we had 11 out of 12 tires broken. If you follow the tarmac at the top and not our foolishness, you will reach the main road heading down to Karlobag. Once in Karlobag we had a refreshing bath and rest
End of day 2, total distance 65 km.